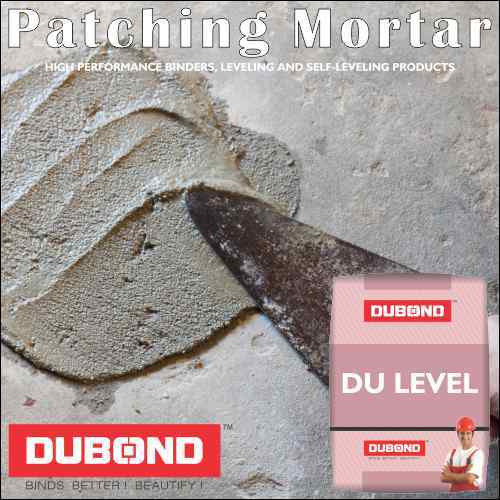 Patching Mortar
Product Code : 128
900 INR
Price And Quantity
Minimum Order Quantity

:

5
Unit of Measure

:

Kilograms/Kilograms
Product Specifications
Application

:

Apply DUBOND's DU LEVEL with a smooth spreader. The high level of thixotropy of the mixture allows for high finishing thickness with just one coating. It is generally advisable to apply an initial fine layer, pressing the product down to obtain maximum adhesion to the subsequent layers. The appearance of the finish will vary depending on whether a smooth steel spreader or sponge spreader has been used for application. For subsequent laying of ceramic tiles it is always advisable to obtain a roughened, porous surface.
Color

:

Grey
Physical State

:

Powder
Product Description
Patching Mortar
Our company is manufacturing best quality of MASONARY MORTAR .
Dubond's Du Level is a thixotropic leveling product which regulates superficial rheological properties to ensure high fluidity on working tools and a calibrated smooth finish of irregular substrates of floors and walls. Du Level imbibed substrates have normal setting, co-operates shrinkage and suitability for high resistance, correction upto 10mm thickness.
Features:

Thixotropic
Eco-friendly
Normal Setting
Mineral Leveling product for high performance
Correction and extended work ability of irregular substrates.
Specifications:
Packaging Size: 30 kg
Brand: Dubond
Thickness: Upto 10 mm
Technical Specification :


Technical Details

Appearance

Ready- mixed

Shelf life

≈ 12 months in It's original packaging in dry environment

Mixing water

≈ 6.5 Lit. / 1 bag 25 kg

Pot life

≥ 4h

Temperature range for application

from +5 oC to +45oC

Min. thickness

≥ 1mm

Max. thickness obtainable

≤ 10mm

Foot traffic

≈ 24 h

Waiting lime before laying :




Ceramic Hies,terracotta

≈ 24n

Parquet , resilient materials and natural stone

≈ 3 days

Coverage

≈ 1.5 kg/m1 per mm of thickness
Final Characteristics

Adhesion to concrete after 28 days







Resistance to:

≥ 1 MPa

EN 13892-8

Compressive after 28 days

≥ 16 MPa

EN 1 3892-2

Flexural after 28 days

≥ 3 MPa

EN 1 3892-2

Abrasion after 28 days

≤ 250 mm3

EN 1 3892-2

Hardness after 28 days

≥ 95 MPa

Brinell method