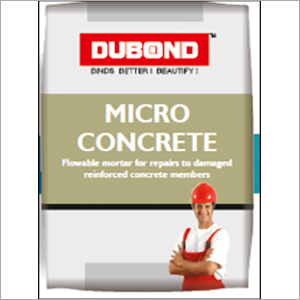 Micro Concrete
Product Code : 120
Product Description
Micro Concrete are a form of additives, which is used to increase the fluidity or plasticity of the material to which it is added. The various products are added include cement, concrete, wallboard, plastics and clay. Moreover, this range of compounds is often used for both concretes and plastics while the effects and results can be different
Product Details:
| | |
| --- | --- |
| Minimum Order Quantity | 5 Pack |
| Appearance | Powder |
| Application | Concrete Admixture |
| Packaging Size | 25 kg |
| Packaging Type | Packet |
Area of Application:

Repair to damaged reinforced concrete elements like slabs, beams, columns, wall, etc.where access is restricted and compaction is not possible.
For jacketing of RCC columns to increase load taking capacity.
Features & Benefits:
Can be pumped or poured into restricted locations.
Flowable mortar hence does not require compaction.
Develop high initial and ultimate final strengths.
Offers excellent resistance to moisture ingress.
Makes repaired sections highly durable.
Can be applied at 100mm thickness at one stroke.
Contains no chloride admixture.
Rapid strength gain to facilitate early reinstatement.
Gaseous expansion system compensates for shrinkage and settlement in the plastic state.