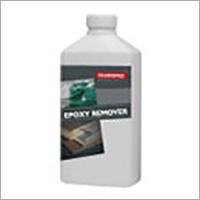 Grout Remover
Product Code : 107
960 INR
Price And Quantity
Minimum Order Quantity

:

10
Unit of Measure

:

Liter/Liters
Product Specifications
Application

:

Apply generously to the area required. Leave to work for approximately 4-5 minutes. Once epoxy grout has softened, carefully remove with a suitable tool,i.e. palette knife. repeat process if necessary to remove all deposits. Wash down the area immediately afterwards with detergent and cold water. Always dispose of any waste thoroughly.
Color

:

Transparent
Physical State

:

Liquid
Product Description
Cured Epoxy Residue Remover: A Powerful, Solvent Based Formula Specifically Designed For Quick And Effective Removal Of Cured Epoxy Residues, Such As Epoxy Grout Residues From Tiles.
Directions:

Dilute the product 1:1 to 1:10 in cold water, pour the solution on the floor and scrub manually with abrasive pad or floor machine with brown pad. Let it stands 5-10 minutes and continue scrubbing manually with abrasive pad or floor machine with brawn pad. Removes the residue liquid with clothes or possibly with wet vacuum and rinse with plenty of water. Let it dry.

Specifications:
Size: 5 Litre
Packaging Type: Bottle
Brand: Dubond

Technical Specification :


Technical Details

Appearance

Liquid

Colour

Transparent

Odor

Slight of Petrolium

PH

2–3

Spec. gravity

(20oC): 0,900 gr. ⁄cc

Biodegradability

90%

Flashing point

Not Flammable
Packing Detail : 500ml,1 liter, 5 liters, and 20 liters containers.