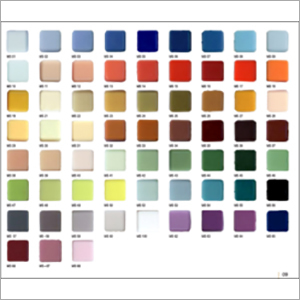 Crystal Glass Mosaic Tiles Shade Card
Product Code : 33
180 INR
Price And Quantity
Minimum Order Quantity

:

22 Sq.ft
Unit of Measure

:

Square Foot/Square Foots
Product Description
Glass Mosaic Tile Backsplash:
Are you planning to do some remodeling to your kitchen or bathroom and would like to get the best backsplash idea that will create enthusiasm for your project? Well, glass tile backsplash is one of the best ideas that you should consider. Glass tiles are unique in appearance and offer matchless results compared plastic and ceramic and therefore ideal when thinking of an aesthetic and stylish project. Glass tiles are not only aesthetic but also impermeable which makes them easy to clean and maintain. Taking into account that backsplash tiles normally accumulate a lot of soap scum and stains, you will love the ease with which you can clean the glass backsplash tiles leaving them sparkling clean.We export our products all over the world.

Advantage of glass backsplash tiles

When choosing any material for use in your home remodeling, considering its pros and cons is always important. This will help you understand how user friendly the materials could be as you use install and use them in your home on a daily basis.Glass tiles provide you with many advantages when used for backsplash. As aforementioned, glass is permeable like ceramic tiles and therefore resistant to mildew, stains and mold. The fact that you can care for these tiles stress-free makes them ideal for any project. Glass tiles are also appreciated for their reflective characteristics and therefore useful in rooms where there is no much lighting. Glass tiles tap into the little natural light entering the room making it look brighter and bigger as well.

Another ingenious feature for glass tiles is that they come in a wide selection of colors and combinations that allows you to choose the best based on your project imaginations and preference. There is no better way to express your personality during the remodeling process like when using glass tile backsplash as you can play around with the different colors, combining the best designs with other features for a harmonious blend. When using glass tile subway backsplash, you will enjoy major installation advantages that cannot be compared with any other tile. Glass tiles is easy to install even for beginners.